Yesterday was my birthday. In the morning I went to the
Museum of Fine Arts
with my mom to see the
Art Deco exhibit
. We had lunch in the cafe and, of course, poked around the
museum shop
afterwards. Later, I had dinner with my folks: chicken fingers from
Kelly's
, an entire large bottle of wine, and a huge slab of chocolate cake.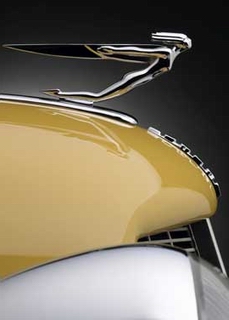 The MFA exhibit was really cool. I like to see photographs and paintings, and there are some great ones, including a couple of nice photographs by Man Ray and Edward Steichen, two of my favorites. And there were a couple of paintings by Tamara De Lempicka. I didn't know her name before yesterday, but I recognized her work, including this painting, which was in the exhibit. Anyway, as much as I love paintings and photographs, there's something particularly energizing about an exhibit that also includes the objects of an era, from furniture to textiles to jewelry to ceramics and glassware, as this one does.
The amazing thing is that so many of the objects, created almost 100 years ago, still look modern today. In particular I coveted some of the lights and the clocks and the posters and oh, the silver. Gorgeous. It made me want to start collecting Deco. Or at least buy out the museum store displays.
One thing I liked about the exhibit was the way it was grouped into regions, so you could see what was going on in design at this time (1910-1939) all around the world. Art Deco in Asia was a lot different than moderne in Scandanivia, which was different again from streamlined in Britain or Jazz Age in America.
I also liked the way the exhibit showed what influenced some of the classic Art Deco design elements. The displays included ancient Greek, Native American, and even Mayan artifacts next to the more modern items they inspired.
Anyway, all-in-all a nice birthday. And, as an added extra bonus, the night before I hit the 25,000 word mark on my NaNoWriMo novel. That's the halfway mark, for those of you who are keeping track.
Now I just have to do it again.