(Click on the picture for a larger, clearer image.)
This week's
Photo Friday
challenge is "
Best of 2004
." The challenge is to choose the one photo that you are most proud of from your 2004 archives.
And it did prove to be a challenge.
Looking back through the year's photographs, there are quite a few that I like, but there wasn't one that I'm absolutely in love with. I think I've made some progress in my photography this year. But I still have a lot to learn.
Anyway, I narrowed it down to three that I liked--two landscapes and one still life. Coincidentally, they were three that I hadn't posted here before. I've been taking a lot of landscapes this year, mostly because I'm living in a new landscape myself. But I've always liked still lifes best. So the photograph above is the one I've chosen as my Photo Friday Best of 2004 submission.
The two landscapes below are a bonus.
The first is from a series of photographs I shot on one miraculous day when the sun set yellow over the beach near my house. I happened by at just the right time and shot until my battery went dead. I posted another one of these pictures
here
, but after looking at the series with a fresh eye, I think I like this one better:
(Click on the picture for a larger, clearer image.)
I don't have Photoshop, by the way--only a very rudimentary photo software program that basically helps me get the pictures out of my camera and into my computer. I can boost the saturation a bit and make the picture a little lighter or a little darker, but that's about it. The pictures I post here are basically unretouched. This photo could probably use a little touch-up. I'd lighten up the surf line a little bit for starters.
The last picture I chose as runner up for my best of 2004 is one that I like, but which probably won't ring any bells with other people. That happens a lot with me and my photographs: The ones I like most get the least reaction from others. What I like about this picture is the graphic and unexpected nature of the ice machine, the quality of the light, and the pretty decent depth-of-field: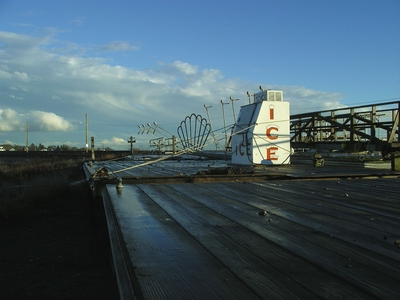 (Click on the picture for a larger, clearer image.)

There are already almost 200 photos posted on Photo Friday for this challenge. Many of them are simply gorgeous and absolutely worth the time it takes to click through them. Enjoy!