I have a bunch of random holiday stories (and a couple of links) that I haven't posted yet. And since we're heading toward the New Year at an alarming rate, I thought I would round them all up into one post.
It's Not a Party Without a Parade
This is my second Christmas in my new place and, like last year, I threw a little Christmas Eve party. The real draw isn't the food or the drinks, although those are nice. The real draw is the Christmas parade, which goes by the end of my block around 7 p.m. And we're not talking about a nice little New England hometown affair. No, this parade is big and raucous and a little crazy. Some of the "floats" are just pickup trucks strung with Christmas lights. Others are more elaborate, with decorations so bright they kind of hurt your eyes. We saw Spongebob and Elmo and lots of other characters--some of whom were not dressed in costumes, if you know what I mean. People wave and throw candy and the police, ambulance and fire engines go by with their sirens wailing. Santa and Mrs. Claus come by at the end with the full complement of plastic reindeer, Rudolph included. Here's a shot of the gang watching the festivities: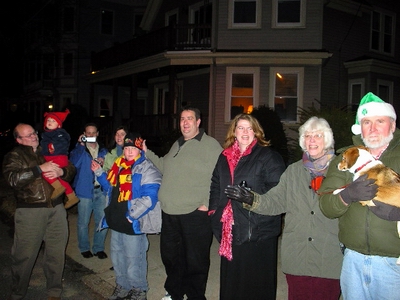 And here comes Santa Claus on (what else?) the John's Oil truck:
Christmas Eve-l Knievel
Following tradition, I celebrated Christmas Eve with a death-defying stunt. I didn't think I could top
last Thanksgiving's great fall
(my right hand still hurts, by the way). I was wrong. This time I tripped over the dog, twisted an ankle, landed hard on my right knee, pulled the dishrack and a utility cart down on top of me, and burst into tears. But that's not even the best part. The best part is that I was carrying a handful of knives.
A Dog's Life
The dog got a lot of good presents this year. Cute toys, lots of bones, and yummy treats. It was her first Christmas with me. I'm pretty sure she spent last Christmas in the animal shelter. When I first got her, she was so shy and easily frightened. She would cry if I left her alone for a second. Now she's spoiled rotten and as friendly and happy and as bold as can be. Here she is opening her Christmas morning present from me:
It Just Wasn't His Year
On the other hand, my poor dad got the shaft this year. My mom even took a picture of his pitiful "pile" of gifts. We did say we were going to take it easy this year. But we probably could have done better than a pair of socks, a shirt, and a DVD. Even his stocking sucked. He got
dental floss
, for crying out loud. Better than a lump of coal, I guess. But still pretty sad.
Let it Snow, Let it Snow, Let it Snow
We didn't have a white Christmas this year. But boy, did Mother Nature make up for that on Sunday. I'd guess we got at least a foot of snow on the North Shore. KK and I took a photo field trip on Monday. Now that's the way to take pictures. She drove around while I shot out the window from the warmth and relative safety of her Subaru. Here are some of my favorites: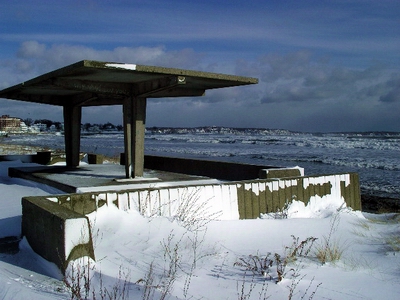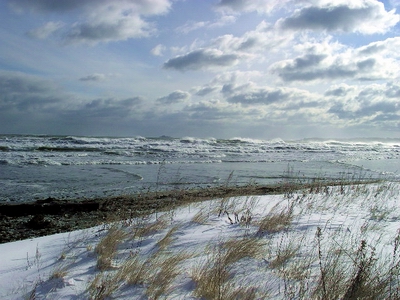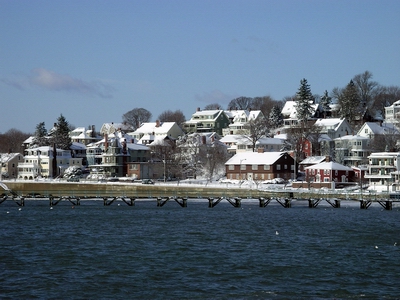 Leftover Links
I meant to post a link to
Buddy the Wonder Dog's 12 Days of Christmas
, but never got around to it. He's still cute, though. Reminds me of my dog a bit. Maybe they could be boyfriend and girlfriend. I've been meaning to post a link to the
Collaborative Advent Calendar
, which features 24 different illustrations by some very talented artists. A little late on that one, too. You should also check out
Penelope Illustration
. I love her work and read her
blog
regularly. Finally, if you like illustration art, you will love
Illustration Friday
, another cool idea from Penelope.
The Power of Blog
I wrote a couple of gift-guide blog entries, mostly because I've always wanted to write one of those "ten best" columns for a magazine. Ten Best Gifts Under $50," for example. Or "Ten Best Beauty Treatments for $10 or Less." You know? So to practice I wrote an entry called
Gifts for Writers and Other Wordies
and also an entry on the
best books on writing
. I swear I wasn't dropping hints. But that's the power of the blog. My dad got me a copy of
Eats, Shoots & Leaves: The Zero Tolerance Approach to Punctuation
by Lynne Truss, which I mentioned in the book entry, and my cousin F got me two of those beautiful
alphabet mugs
mentioned in the wordies entry. They're even prettier in real life.
I think next year I'll write about sports cars.